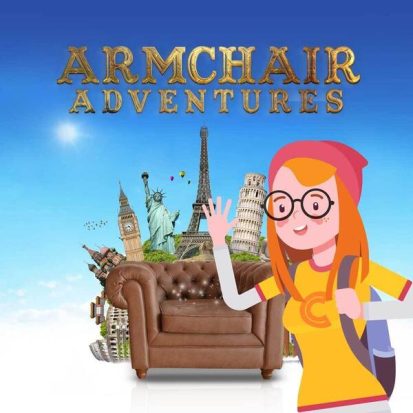 Armchair Adventures – Series 3 Trailer
Leave a review
"Ahhh, this is the life eh! Sitting on the beach, suntanning by the sea…" ️
Join Uncle Chris and Connie as they near the end of their summer holidays, ready for another action packed, imagination fuelled series of Armchair Adventures. Uncle Chris and Connie have an idea… listen here to find out
Series 3 starts on Thursday 6th October with 'A Poetry Adventure.' Hit follow or subscribe to get this in your feed as soon as it's released!
————————————————————————–
Say hello Adventurer!
www.armchair-adventures.co.uk
Twitter
Facebook
Instagram
The Adventurers that make this:
Produced by Made By Mortas
Actor – Hannah Donelon, Chris Brett
Music and Sound Design – AJS Music
---
© Made By Mortals
| 03:00
|
Season: 3 | Episode: 1 |
Download Episode
Start here: S1: Welcome to Armchair Adventures This is a serialised ongoing story, so jumping in at episode 10, for example, could confuse matters. Give episode one a try, and if you like it; listen to things from there.


Full Episode description
"Ahhh, this is the life eh! Sitting on the beach, suntanning by the sea…" ️
Join Uncle Chris and Connie as they near the end of their summer holidays, ready for another action packed, imagination fuelled series of Armchair Adventures. Uncle Chris and Connie have an idea… listen here to find out
Series 3 starts on Thursday 6th October with 'A Poetry Adventure.' Hit follow or subscribe to get this in your feed as soon as it's released!
————————————————————————–
Say hello Adventurer!
www.armchair-adventures.co.uk
Twitter
Facebook
Instagram
The Adventurers that make this:
Produced by Made By Mortas
Actor – Hannah Donelon, Chris Brett
Music and Sound Design – AJS Music
---
Episode URL
© Made By Mortals | Status: Active, 25 episodes | Kind: Story
---
The content, Artwork and advertising within this podcast is not owned or affiliated with Sound Carrot.