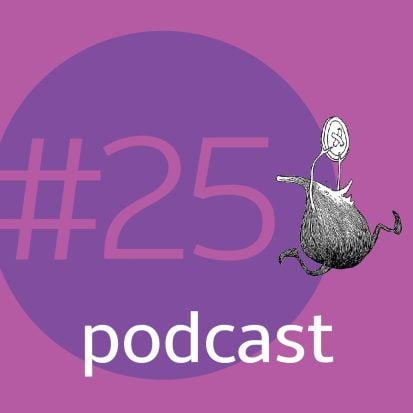 #25 – We're Going on an Onomatopoeia Hunt
Leave a review
We're going on an ONOMATOPOEIA hunt! We can't go over it, we can't go under it….I guess we'll have to go through it! On this episode Buttons & Figs is going to sail in our sieve to the land of onomatopoeia words. Hear excerpts of the great Michael Rosen's "Going on a Bear Hunt," learn the meaning and how to spell this crazy word, and hear some Buttons & Figs kids come up with some great onomatopoeia words. Squawk. Squelch. Burp. Play with words at www.buttonsandfigs.com
---
© CalicoCast
|
00:15:36
|
Episode One: #1 – The Jumblies
This is an Episodic show. You can listen to it in any order, but
episode one
is always a great place to start.
Full Episode description
We're going on an ONOMATOPOEIA hunt! We can't go over it, we can't go under it….I guess we'll have to go through it! On this episode Buttons & Figs is going to sail in our sieve to the land of onomatopoeia words. Hear excerpts of the great Michael Rosen's "Going on a Bear Hunt," learn the meaning and how to spell this crazy word, and hear some Buttons & Figs kids come up with some great onomatopoeia words. Squawk. Squelch. Burp. Play with words at www.buttonsandfigs.com
---
© CalicoCast
| Status: Active, 177 episodes | Kind: Episodic
|
Episode URL
---
The content, Artwork and advertising within this podcast is not owned or affiliated with Sound Carrot and remain the property of their respective owners.