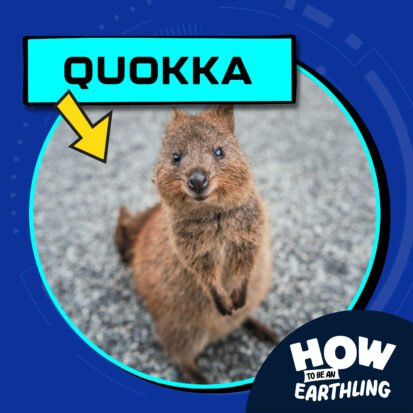 Quokka (3/9/23)
Leave a review
Mozi's favorite holovision show, The Real Gooblars, is getting cancelled, and Mozi is feeling fine… or so he says. So, Flip & Mozi head off to meet the smiliest and cutest animals of Western Australia, Quokkas! Learn more about why these creatures always look like they're smiling and why it's okay not to always be happy. Featuring brand new music from The Pop Ups, like "Happy About Being Sad!"
---
© Tinkercast
|
00:26:17
|
Episode: 68
|
Episode One: Introducing: Flip & Mozi's Guide to How to be an Earthling
This is an Episodic show. You can listen to it in any order, but
episode one
is always a great place to start.
Full Episode description
Mozi's favorite holovision show, The Real Gooblars, is getting cancelled, and Mozi is feeling fine… or so he says. So, Flip & Mozi head off to meet the smiliest and cutest animals of Western Australia, Quokkas! Learn more about why these creatures always look like they're smiling and why it's okay not to always be happy. Featuring brand new music from The Pop Ups, like "Happy About Being Sad!"
See Privacy Policy at https://art19.com/privacy and California Privacy Notice at https://art19.com/privacy#do-not-sell-my-info.
---
© Tinkercast
| Status: Active, 73 episodes | Kind: Episodic
|
Episode URL
---
The content, Artwork and advertising within this podcast is not owned or affiliated with Sound Carrot and remain the property of their respective owners.