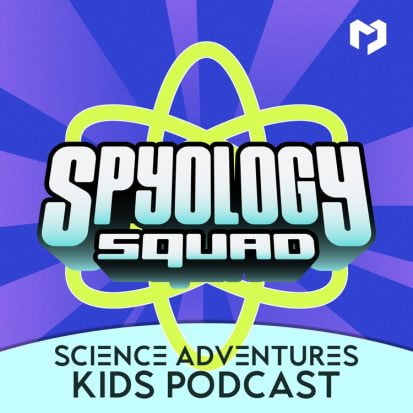 Start here: Introducing: Spyology Squad This is a serialised ongoing story, so jumping in at episode 10, for example, could confuse matters. Give episode one a try, and if you like it; listen to things from there.


Full Episode description
Puzzables brings puzzles to life with an audio story and a toy.
Send Mr Jim an email with your proof of purchase to receive your video message:
mrjim@heymrjim.com
When kids open their puzzle, they will scan the QR on the inside of the box to start the audio story. The puzzle and story are designed to be played together for a new way to play and listen to stories. Both the audio story and puzzle hide clues about what the mystery animal is. 
Schleich® makes the highest quality, hand-painted toys that are perfect for storytelling.
The schleich® mystery animal is hidden inside the black bag, found in the puzzle box. It's the job of the child to solve the mystery by gathering all the clues and guessing what critter is in the mystery black bag.
See omnystudio.com/listener for privacy information.
---
© iHeartPodcasts and Mr. Jim
| Status: Active, 120 episodes | Kind: Story
|
Episode URL
---
The content, Artwork and advertising within this podcast is not owned or affiliated with Sound Carrot and remain the property of their respective owners.