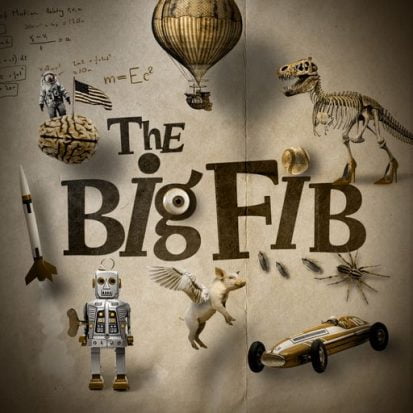 E120: Wacky Khakis: Looters and Polluters
Leave a review
Pants on Fire may be The Big Fib now, but we still love wearing our Wacky Khakis. This week, Deborah and LISA each tell us a story about looters and polluters, but only one them is telling the truth. Can you figure out which one? The Big Fib is produced by Gen-Z Media. For more great Gen-Z podcasts visit http://bestrobotever.com or follow us on Twitter and Facebook and Instagram. For more on the new TV show, visit https://www.disneyplus.com/
---
© Gen-Z Media
|
00:11:47
|
Episode: 120
|
Episode One: Teaser!
This is an Episodic show. You can listen to it in any order, but
episode one
is always a great place to start.
Full Episode description
Pants on Fire may be The Big Fib now, but we still love wearing our Wacky Khakis. This week, Deborah and LISA each tell us a story about looters and polluters, but only one them is telling the truth. Can you figure out which one?
The Big Fib is produced by Gen-Z Media. For more great Gen-Z podcasts visit http://bestrobotever.com or follow us on Twitter and Facebook and Instagram.
For more on the new TV show, visit https://www.disneyplus.com/
See Privacy Policy at https://art19.com/privacy and California Privacy Notice at https://art19.com/privacy#do-not-sell-my-info.
---
© Gen-Z Media
| Status: Active, 249 episodes | Kind: Episodic
|
Episode URL
---
The content, Artwork and advertising within this podcast is not owned or affiliated with Sound Carrot and remain the property of their respective owners.