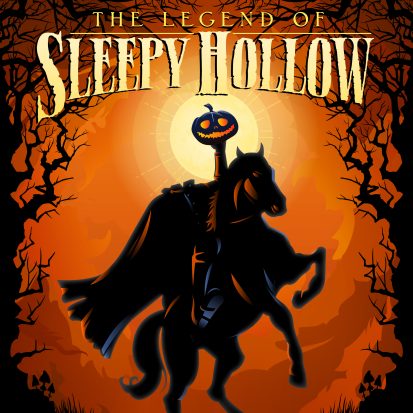 S2 E5: The Legend of Sleepy Hollow – Episode 5
Leave a review
Heather Ordover narrates legendary American author Washington Irving's enduring classic, "Sleepy Hollow," originally published in 1820 in Irving's collection, The Sketch Book of Geoffrey Crayon, Gent. The tale, among the earliest examples of American fiction with enduring popularity, is set in 1790 in the countryside around the Dutch settlement of Tarry Town (historical Tarrytown, New York), in a secluded glen called Sleepy Hollow. Sleepy Hollow is renowned for its ghosts and the haunting atmosphere that pervades the imaginations of its inhabitants and visitors. The most infamous spectre in the Hollow is the Headless Horseman, said to be the ghost of a Hessian trooper who had his head shot off by a stray cannonball during "some nameless battle" of the American Revolutionary War, and who "rides forth to the scene of battle in nightly quest of his head." Produced by Chilling Tales for Dark Nights."The Legend of Sleepy Hollow"
---
© Gen-Z Media
|
00:34:50
|
Season: 2
|
Episode: 5
|
Start here: Coming Soon! This is a serialised ongoing story, so jumping in at episode 10, for example, could confuse matters. Give episode one a try, and if you like it; listen to things from there.


Full Episode description
Heather Ordover narrates legendary American author Washington Irving's enduring classic, "Sleepy Hollow," originally published in 1820 in Irving's collection, The Sketch Book of Geoffrey Crayon, Gent. The tale, among the earliest examples of American fiction with enduring popularity, is set in 1790 in the countryside around the Dutch settlement of Tarry Town (historical Tarrytown, New York), in a secluded glen called Sleepy Hollow. Sleepy Hollow is renowned for its ghosts and the haunting atmosphere that pervades the imaginations of its inhabitants and visitors. The most infamous spectre in the Hollow is the Headless Horseman, said to be the ghost of a Hessian trooper who had his head shot off by a stray cannonball during "some nameless battle" of the American Revolutionary War, and who "rides forth to the scene of battle in nightly quest of his head." Produced by Chilling Tales for Dark Nights."The Legend of Sleepy Hollow"
Author: Washington Irving
Narrator: Heather Ordover
Ichabod Crane: Jesse Cornett
Other Voices: Jesse Cornett
Sound Design: Jesse Cornett
Post-Production: Jesse CornettAudio production © 2014 Chilling Entertainment, LLC
Story © Washington Irving (public domain)
Music Credits: Kevin McLeod
See Privacy Policy at https://art19.com/privacy and California Privacy Notice at https://art19.com/privacy#do-not-sell-my-info.
---
© Gen-Z Media
| Status: Active, 16 episodes | Kind: Story
|
Episode URL
---
The content, Artwork and advertising within this podcast is not owned or affiliated with Sound Carrot and remain the property of their respective owners.