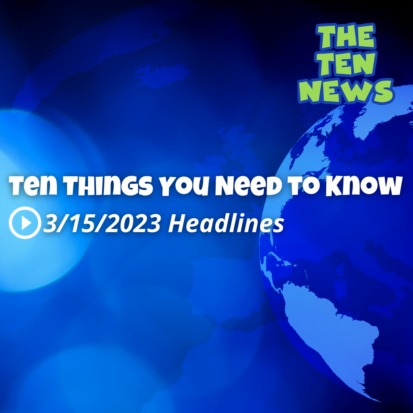 Ten Things You Need to Know on 3/15/23 ️
Leave a review
Ten Things You Need to Know ️ 1. ❄️ West Coast Weather Update 2. Surviving a Snowstorm 3. Trouble at Twitter 4. Ukraine Update 5. Protesting a Power Grab 6. See ya, CO2 7. Bad News for Banking 8. Cheese, Louise! 9. The Academy Awards 10. ‍⬛ The Ides of March
---
© Small But Mighty Media
|
00:08:21
|
Season: 3
|
Episode: 41
|
Episode One: Introducing The Ten News ⏱
This is an Episodic show. You can listen to it in any order, but
episode one
is always a great place to start.
Full Episode description
Ten Things You Need to Know ️
1. ❄️ West Coast Weather Update
2. Surviving a Snowstorm
3. Trouble at Twitter
4. Ukraine Update
5. Protesting a Power Grab
6. See ya, CO2
7. Bad News for Banking
8. Cheese, Louise!
9. The Academy Awards
10. ‍⬛ The Ides of March
Email us your fun facts, stories, and eye-rolling jokes at: hello@thetennews.com
Follow the show on Instagram: @thetennews
️ Visit our website for resources and a transcript of today's episode at: www.thetennews.com
---
© Small But Mighty Media
| Status: Active, 80 episodes | Kind: Episodic
|
Episode URL
---
The content, Artwork and advertising within this podcast is not owned or affiliated with Sound Carrot and remain the property of their respective owners.