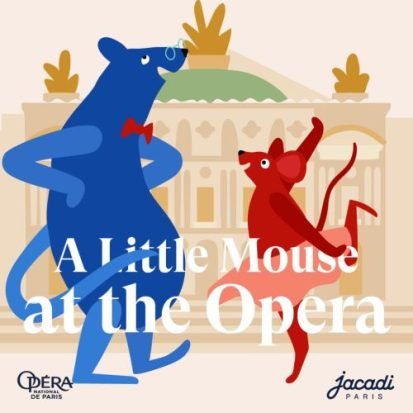 Act 3: Chasing the magician
Leave a review
"If the magician Rothbart can turn a Princess into a swan, he must be able to turn a mouse like me into a ballerina… I absolutely must find this Rothbart! Mister magician, are you there?"
---
© Paris Opera, sponsored by Jacadi
|
14:22
|
Episode: 3
|
Start here: Teaser This is a serialised ongoing story, so jumping in at episode 10, for example, could confuse matters. Give episode one a try, and if you like it; listen to things from there.


Full Episode description
"If the magician Rothbart can turn a Princess into a swan, he must be able to turn a mouse like me into a ballerina… I absolutely must find this Rothbart! Mister magician, are you there?"
A Little Mouse at the Opera, a Paris Opera podcast sponsored by Jacadi.
A new episode every Friday.
Produced by Kidsono
with Lilly Caruso and Corrado Invernizzi
Written by Ève-Marie Bouché, based on an original idea of Benoist Husson
Director: Ève-Marie Bouché and Benoist Husson
Original score: Cédric Barbier
Foley artist: Benjamin Rosier and Nicolas Lockhart
Sound editing and mix: Nicolas Lockhart
Executive producer: Benoist Husson
Coordination Opéra de Paris : Caroline Brown, Aliénor Courtin, Antony Desvaux, Inès Piovesan, Gwenola Taithe
Illustrator : Cécile Gariépy
---
Hosted on Acast. See acast.com/privacy for more information.
---
© Paris Opera, sponsored by Jacadi
| Status: Active, 7 episodes | Kind: Story
|
Episode URL
---
The content, Artwork and advertising within this podcast is not owned or affiliated with Sound Carrot and remain the property of their respective owners.