Enabling autoplay
If you're here it's because your browser is stopping our player from continuing playback across pages. It's doing to stop websites playing audio without your permission, which is something you'd generally want.
On SoundCarrot.com however it means if you click play on an episode and change pages, playback will stop – which I think we'd not want to happen.
Allowing autoplay on soundcarrot.com will mean you can listen to episodes whilst browsing our pages. It's fairly easy to do, and won't affect any other websites.
Instructions for Safari and Firefox below…
Safari
We want to allow autoplay in Safari for just soundcarrot.com, you can do that whilst you're on this page.
On your menu bar, click on Safari > Settings.
Click the Websites icon at the top of the main window.
Click Auto-Play in the left column.
On the right is a section called 'Allow websites below to automatically play media'. You should see the soundcarrot.com listed in the window.
Click the dropdown menu to the right of soundcarrot.com. You will have three choices:


Allow All Auto-Play
Stop Media with Sound
Never Auto-Play


Select Allow All Auto-Play
All done, you'll now enjoy continuous playback as you browse our pages in Safari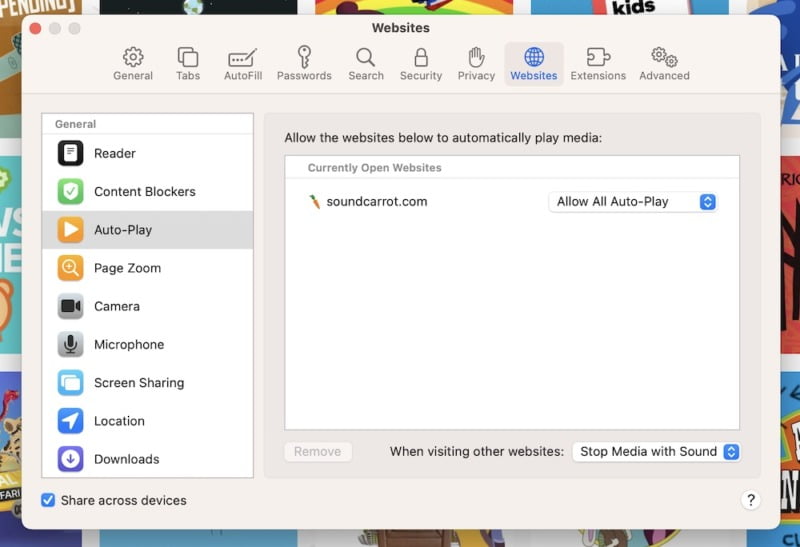 Firefox
Whilst browsing any of our pages with Firefox, click this icon next to the web address:
In the popup that appears click the drop down menu 'Block Audio and Video'
Select 'All Audio and Video'
All done, you'll now enjoy continuous playback as you browse our pages in Firefox



Now when you visit our website you'll be able to listen to podcasts without worrying about them being stopped when you change pages.
Featured podcast...
Becoming Mother Nature
When Chloe is sent off to live with her mysterious and eccentric grandmother she learns an unbelievable secret. Grandma Ivy is none other than Mother Nature herself! And Chloe is next in line to assume to the power and responsibility of the job. Can a twelve-year old learn to balance the entire world's ecosystem while just trying to fit in at her new school? Only Mother Nature knows.