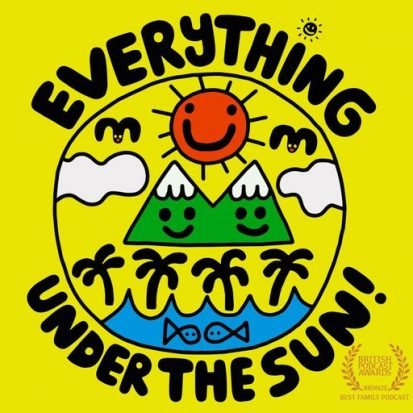 55. Why do Koalas Climb? How do Frogs Jump? With Paolo curator of zoology at the National Museum of Ireland. Why don't Water Boatmen Sink?
Leave a review
Hello and welcome to episode 55 of Everything Under The Sun!
---
© Molly Oldfield
|
10:27
|
Season: 1
|
Episode: 56
|
Episode One: Trailer for Everything Under The Sun
This is an Episodic show. You can listen to it in any order, but
episode one
is always a great place to start.
Full Episode description
Hello and welcome to episode 55 of Everything Under The Sun!
I know a lot of you children listening might be at home at the moment, hopefully with lots of people around you having fun but still you might be missing your friends a bit as lots of schools have closed for a while – if so this is for you!
I hope you enjoy the show and remember, do send in a question and I can answer it for you!
To help all the other children around the world who are home from school please do send the link to the podcast to all of your friends, ask your Mummy or Daddy to do it and just tell everyone about it as I think that there will be lots of children who would like to hear each others voices and learn new stuff about our world right now.
Now for our first question, which is about koalas comes from Frances, she would like to know…
Why do koalas climb?
Find out why koalas climb, how much time they spend in trees a day and why they HUG trees!
We also chat about water boatmen with Ingrid's question, how do water boatmen not sink?
We find out how they have interesting legs that store air to help them skate over the water and how they manage to be the loudest singers of any creatures on earth compared to their size.
Our third question is about frogs, it comes from Eliza, who asks how do frogs jump?
Paolo Viscardi, who is a curator of zoology at the National Museum of Ireland and knows about all kinds of creatures, including frogs has the answer.
If you get time you can leave a review and send me a question! To send a question just ask an adult to borrow their smartphone, record yourself saying your name and your age and a bit about yourself and send it into me at molly@everythingunderthesun.co.uk
Thanks everyone! Sending lots of love for a good week ahead, thank you and GOODBYE!
Podcast website: www.everythingunderthesun.co.uk
Twitter: @mollyoldfield
Insta: @mollyoldfieldwrites
Paolo!
Twitter: PaoloViscardi
---
See acast.com/privacy for privacy and opt-out information.
---
© Molly Oldfield
| Status: Active, 124 episodes | Kind: Episodic
|
Episode URL
---
The content, Artwork and advertising within this podcast is not owned or affiliated with Sound Carrot and remain the property of their respective owners.