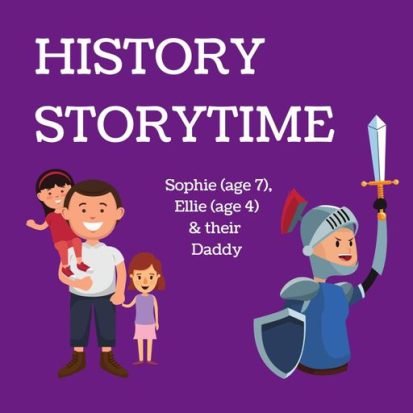 The Rescue of the Danish Jews in WW2
Leave a review
Sophie (age 7) and Ellie (age 5) tell the story of how Denmark's Jews were rescued by Danish people at the height of World War Two and escaped overnight to Sweden and safety.
---
© History Storytime
| 00:09:45
|
Download Episode
Episode One: The Slave Trade
This is an Episodic show. You can listen to it in any order, but
episode one
is always a great place to start.
Full Episode description
Sophie (age 7) and Ellie (age 5) tell the story of how Denmark's Jews were rescued by Danish people at the height of World War Two and escaped overnight to Sweden and safety.
Hitler's Germany has conquered most of Europe in World War Two. Hitler hates the Jews and tells lies about them. He tries to find them and kill them. But in Denmark the Danes are conquered but allowed to rule themselves – with the German army patrolling the streets.
The King tries to keep his people's morale up. He rides his horse through Copenhagen every day. When a German soldiers asks why he has no bodyguards, a Danish citizen replies that all Danes are his bodyguard. The King fights against the evil German flag, the Swastika being flown. When the Germans propose that all Jews should wear a yellow badge, the King says he will wear one too. The Germans back down. Hitler sends the King a birthday card with a long letter sucking up to him. The King barely replies.
Hitler is enraged. He decides that Germany will take total control. He also decides to round up the Jews and prepare to kill them.
But a German finds out about the plan and warns the Danish government. The government and ordinary people step into action. In one night they warn all the Jews. They hide them from the Germans and then take them across the sea to Sweden where they will be safe. The evil German SS soldiers kick down the doors but cannot find the Jews. 7,500 are safe.
Now both the Danish people and the brave German who warned the Jews are remembered in Israel, the Jewish homeland.
PATRONS' CLUB
If you liked this episode then please do join our Patrons' Club. We have exclusive episodes there. You can join on www.patreon.com/historystorytime. Sophie and Ellie also really enjoy getting to know our patrons and they swap photos.
PARENTS' NOTICE ABOUT THIS EPISODE
We wanted to tell a Holocaust story which was uplifting and positive and appropriate for little children. Obviously, that is difficult to do about what is one of the greatest tragedies and crimes in human history. But we hope we have managed it here.
We teach the name of the Holocaust and that Jews were killed. We do not cover any of the details about how this was done.
We do not explain in detail why people were anti-semitic, just that they were. In my own experience with the girls, they can sometimes repeat the various anti-semitic lies without explaining properly that they were false or giving the proper contexts.
We also establish early on that the Jews escape so that the story is not scary for children.
We try to establish that the Holocaust was a uniquely evil event.
We took a few liberties with the story. 7,500 Jews escaped, but 500 were captured. Efforts by the Danish government ensured that only around 100 lost their lives. We simplified the story and kept it positive for children. But we wanted here to recognise that there was some tragedy.
If your child likes this then there is a film on Disney Plus called "Miracle at Midnight" which is very good. It was too scary and complicated for Ellie. But Sophie was fine with it. There is also an award winning childrens' book called "Number the Stars".
Thanks for listening. Feedback welcome @historytime99 or you can find on facebook.
---
Episode URL
© History Storytime | Status: Inactive, 34 episodes | Kind: Episodic
---
The content, Artwork and advertising within this podcast is not owned or affiliated with Sound Carrot.