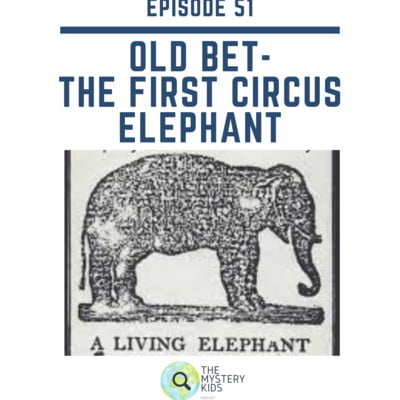 51:Old Bet-The First Circus Elephant
Leave a review
Want to know how the first circus got started.. all with an elephant named "Old Bet."
---
© Tess O'Driscoll
|
00:10:12
|
Season: 1
|
Episode: 51
|
Episode One: Welcome Mystery Kid!
This is an Episodic show. You can listen to it in any order, but
episode one
is always a great place to start.
Full Episode description
Want to know how the first circus got started.. all with an elephant named "Old Bet."
Become a Patreon!
—
This episode is sponsored by
· Anchor: The easiest way to make a podcast. https://anchor.fm/app
—
Send in a voice message: https://anchor.fm/themysterykidspodcast/message
---
© Tess O'Driscoll
| Status: Active, 115 episodes | Kind: Episodic
|
Episode URL
---
The content, Artwork and advertising within this podcast is not owned or affiliated with Sound Carrot and remain the property of their respective owners.