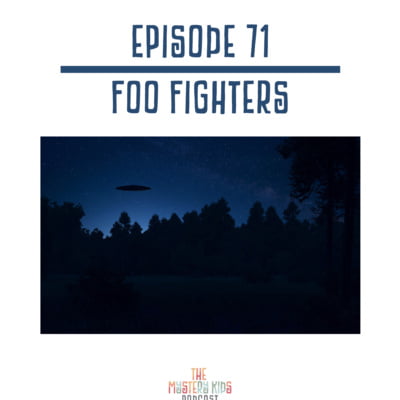 71: Foo Fighters UFO
Leave a review
It's 1944 on the French-German border. World War 2 is winding down but the battle is still raging. Lt. Fred Ringwald is riding as observer in a night fighter piloted by Lt. Ed Schlueter, with Lt. Donald J. Meiers on radar. It was late November and the night was cloudy, only slightly lit by a meager quarter moon. As they flew over the Rhine Valley, Ringwald called out over the radio to his companions, "I wonder what those lights are, over there in the hills."
---
© Tess O'Driscoll
|
00:08:57
|
Season: 1
|
Episode: 71
|
Episode One: Welcome Mystery Kid!
This is an Episodic show. You can listen to it in any order, but
episode one
is always a great place to start.
Full Episode description
It's 1944 on the French-German border. World War 2 is winding down but the battle is still raging. Lt. Fred Ringwald is riding as observer in a night fighter piloted by Lt. Ed Schlueter, with Lt. Donald J. Meiers on radar. It was late November and the night was cloudy, only slightly lit by a meager quarter moon. As they flew over the Rhine Valley, Ringwald called out over the radio to his companions, "I wonder what those lights are, over there in the hills."
Resources, Books, Photos, Coloring pages and more!
Become a Patreon!
—
This episode is sponsored by
· Anchor: The easiest way to make a podcast. https://anchor.fm/app
—
Send in a voice message: https://anchor.fm/themysterykidspodcast/message
---
© Tess O'Driscoll
| Status: Active, 108 episodes | Kind: Episodic
|
Episode URL
---
The content, Artwork and advertising within this podcast is not owned or affiliated with Sound Carrot and remain the property of their respective owners.