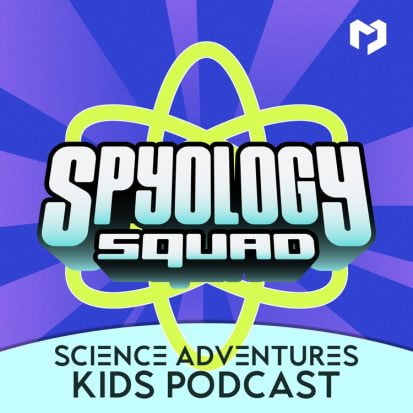 The Hurricane Machine | Part 3
Leave a review
Mr Jim's Puzzle Is Now AvailableYes, Mr Jim made a mystery puzzle where its up to you to solve who the mystery animal is! Each Puzzle includes a 54 piece jigsaw puzzle, a Mr Jim audio story, and the mystery animal toy from Schleich®.—> Buy It Now <—
---
© iHeartPodcasts and Mr. Jim
|
00:12:33
|
Start here: The Attack of the Solar Flares | Part 1 This is a serialised ongoing story, so jumping in at episode 10, for example, could confuse matters. Give episode one a try, and if you like it; listen to things from there.


Full Episode description
Mr Jim's Puzzle Is Now Available
Yes, Mr Jim made a mystery puzzle where its up to you to solve who the mystery animal is! Each Puzzle includes a 54 piece jigsaw puzzle, a Mr Jim audio story, and the mystery animal toy from Schleich®.
—> Buy It Now <—
Your Next Step In Becoming A Spy..
—> The Spy Starter Pack <—
Get Your Free Spyology Squad Access Card In The Mail
https://www.spyologysquad.com/
Schedule Your Birthday Shout Out..
—> Birthday Shout Out <—
Ad-Free Subscription to HEYMRJIM Podcasts
—> Join the HEYMRJIM Family <—
Listen to HEYMRJIM Podcasts
Kids Short Stories
Kids Animal Stories
Spyology Squad
About Mr. Jim:
Hi! I'm Jim Jacob, a South Carolina based creator. I started as a podcaster by accident. Our first real episodes on the internet were me trying to find a solution to help tell my sons stories as I was traveling for work. I recorded some stories and hoped that by uploading them to a podcast app, my wife and kids could have easy access to listen. What started as a fix for our family's bedtime routine interruption has grown into a worldwide audience with hundreds of thousands of listeners. My wife Jocelyn and I have 3 kids and love inspiring others towards greater imagination and curiosity.
Send Mr Jim A Message
Instagram – https://www.instagram.com/heymrjim
Facebook – https://www.facebook.com/heymrjim
See omnystudio.com/listener for privacy information.
---
© iHeartPodcasts and Mr. Jim
| Status: Active, 168 episodes | Kind: Story
|
Episode URL
---
The content, Artwork and advertising within this podcast is not owned or affiliated with Sound Carrot and remain the property of their respective owners.