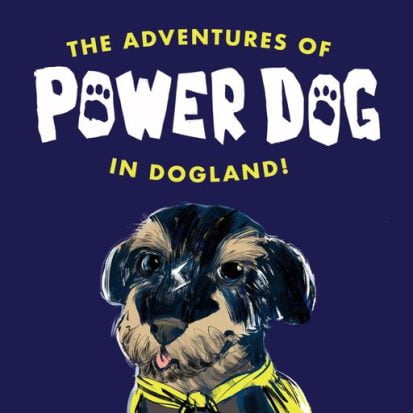 S2E22 | Draconus (Hope is the thing with feathers!)
Leave a review
Join Power Dog and President Bernie Sandals as they travel through the stars, and find out who they'll run into!
---
© Power Dog
| 00:28:44
|
Season: 2 | Episode: 22 |
Download Episode
Start here: Trailer | Cloud Running with Power Dog from Episode 1 This is a serialised ongoing story, so jumping in at episode 10, for example, could confuse matters. Give episode one a try, and if you like it; listen to things from there.


Full Episode description
Join Power Dog and President Bernie Sandals as they travel through the stars, and find out who they'll run into!
We celebrate a favorite poem of ours by Emily Dickinson called "Hope is the Thing With Feathers" with a reading by our kid creator Hank. If you enjoy the poem, then we encourage you to find out more about her. If you're working with or are a kid, then we highly recommend this great entry from Britannica Kids: https://kids.britannica.com/kids/article/Emily-Dickinson/399427
Discerning ears may also recognize the return of a bit of music from Edvard Grieg called "Morning Mood" performed by the Czech National Symphony Orchestra as the Musopen Symphony Orchestra. Thank you to Wikipedia and Museopen for globally sharing open-source music so that we could include lovely music in our podcast, family playlists, and classrooms too!
Special thanks to Jason Roark, our creative partner and ultimate Renaissance Bunny Supreme! He records, edits, and designs this show. He also provides original music including our opening theme song, which is sung & performed by him and the wonderful, talented Jen Bernard.
Our song that plays at the end of this episode is a song we wrote along with Hank's Granny & Gramps, aka Murphy & Marckx. It's called "Power Dog, He Won't Give Up!"
Colin Laurel illustrated our cover art, which was directed by Jen Wick.
This podcast was made possible, in part, by a grant from The Regional Arts & Culture Council in Portland, OR.
It was made more possible by listeners like you! Thank you for your support!
https://linktr.ee/powerdogadventures
The Adventures of Power Dog in Dogland is created in the ancestral lands of the Multnomah, Wasco, Kathlamet, Clackamas, Cowlitz, bands of Chinook, Tualatin Kalapuya, Molalla, and many other Tribes of the first people who made their homes along the rivers.
—
Send in a voice message: https://anchor.fm/powerdogadventures/message
Support this podcast: https://anchor.fm/powerdogadventures/support
---
Episode URL
© Power Dog | Status: Active, 65 episodes | Kind: Story
---
The content, Artwork and advertising within this podcast is not owned or affiliated with Sound Carrot.