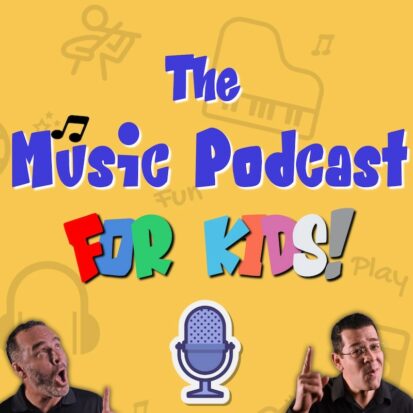 Episode One: The Magic of the Violin
This is an Episodic show. You can listen to it in any order, but
episode one
is always a great place to start.
Full Episode description
This episode helps us get to know Stephanie Leavell of Music for Kiddos. 
Stephanie is the creator of Music for Kiddos, a website that provides high-quality music and music resources for music therapists, music educators, and parents. She's mom to a spunky young daughter, a seasoned performer, an experienced music educator, and a board-certified music therapist. Stephanie is a Berklee College of Music graduate and is passionate about using music to help kids succeed. She specializes in working with babies and kids through age 6.  
Stephanie jokes that she has a low tolerance for cheesy music. She writes music to help kids be successful in their daily life: night-time routines, transitions, movement, instrument exploration, academic concepts, and helping kids understand and express their feelings. Music cannot be "prescribed", because the effectiveness of music is highly individualized, but this is a starting point… some tried and true music and resources that you might find helpful, too. 
You can learn more at https://www.musicforkiddos.com/
Check out our YouTube channel: Remember to Share and Subscribe! https://www.youtube.com/channel/UCdGhqK_DWpRIKS45ICqN3eQ
***Classroom and Homeschool Teachers*** 
Find our digital resource to help enhance your classroom HERE!
Like us on Facebook! 
Mr. Fite
Check out original fun and educational music from Mr. Fite at 
https://brucefite.com/music and subscribe to Mr. Fite's YouTube Channel
Mr. Henry
Are you looking for affordable piano lessons for your 6-10-year-old? Start the music journey with Mr. Henry by taking a sneak peek into the Premier Membership with the free mini-piano course! https://www.mrhenrysmusicworld.com/piano
FREE Rock Out Loud Online Music Teaching Platform 
[Disclosure: The Music Podcast for Kids is an affiliate of Rock Out Loud which means we receive a percentage of sales if a teacher decides to upgrade the service. There is no additional cost to the user. Our link gives access to the app for free as well!]
---
© The Music Podcast for Kids!
| Status: Active, 95 episodes | Kind: Episodic
|
Episode URL
---
The content, Artwork and advertising within this podcast is not owned or affiliated with Sound Carrot and remain the property of their respective owners.