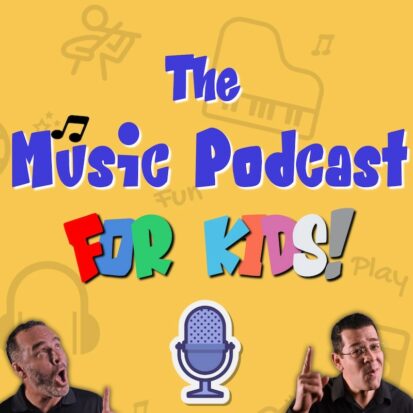 Syncopation: The Rhythm of Ragtime! (Encore)
Leave a review
Mr. Henry and Mr. Fite explore the toe-tappin' sounds of Ragtime Music. Syncopation makes us want to tap our toes and dance, dance, dance! Listen for the even left-hand part mixed with the syncopated right-hand part as they explore a little bit of the Maple Leaf Rag by Scott Joplin (one of Mr. Fite's favorite composers).  On to the show! Check out our YouTube channel: Remember to Share and Subscribe! https://www.youtube.com/channel/UCdGhqK_DWpRIKS45ICqN3eQ ***Classroom Teachers and Homeschoolers***  Find our digital resources to help enhance your classroom HERE! Like us on Facebook!  Support The Music Podcast for kids on Patreon HERE! Mr. Fite Check out original fun and educational music from Mr. Fite at  brucefite.com and subscribe to Mr. Fite's YouTube Channel
---
© The Music Podcast for Kids!
|
10:25
|
Episode: 120
|
Episode One: The New Year Rap!
This is an Episodic show. You can listen to it in any order, but
episode one
is always a great place to start.
Full Episode description
Mr. Henry and Mr. Fite explore the toe-tappin' sounds of Ragtime Music. Syncopation makes us want to tap our toes and dance, dance, dance! Listen for the even left-hand part mixed with the syncopated right-hand part as they explore a little bit of the Maple Leaf Rag by Scott Joplin (one of Mr. Fite's favorite composers).  On to the show!
Check out our YouTube channel: Remember to Share and Subscribe! https://www.youtube.com/channel/UCdGhqK_DWpRIKS45ICqN3eQ
***Classroom Teachers and Homeschoolers*** 
Find our digital resources to help enhance your classroom HERE!
Like us on Facebook! 
Support The Music Podcast for kids on Patreon HERE!
Mr. Fite
Check out original fun and educational music from Mr. Fite at 
brucefite.com and subscribe to Mr. Fite's YouTube Channel
Mr. Henry
Are you looking for affordable piano lessons for your 6-10-year-old? Start the music journey with Mr. Henry by taking a sneak peek into the Premier Membership with the free mini-piano course! https://www.mrhenrysmusicworld.com/piano
FREE Rock Out Loud Online Music Teaching Platform 
[Disclosure: The Music Podcast for Kids is an affiliate of Rock Out Loud which means we receive a percentage of sales if a teacher decides to upgrade the service. There is no additional cost to the user. Our link gives access to the app for free as well!]
---
© The Music Podcast for Kids!
| Status: Active, 95 episodes | Kind: Episodic
|
Episode URL
---
The content, Artwork and advertising within this podcast is not owned or affiliated with Sound Carrot and remain the property of their respective owners.