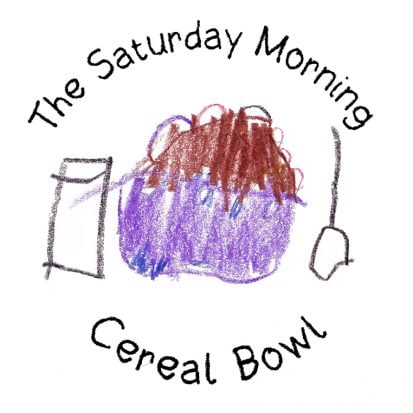 June 12, 2021
Leave a review
Here's the podcast of the latest episode of The Saturday Morning Cereal Bowl. Some great family music on this show. Enjoy!
---
© SMCB
|
Episode One: March 13, 2021
This is an Episodic show. You can listen to it in any order, but
episode one
is always a great place to start.
Full Episode description
Here's the podcast of the latest episode of The Saturday Morning Cereal Bowl. Some great family music on this show. Enjoy!
Hour #1
The Boogers – "SMCB Theme Song"
The Not-Its! – "Runaway Bike" [Ready or Not!]
Carries Ferguson – "Do it Again" [The Grumpytime Club]
The Relative Minors – "Stone Age Rock Star "[Play Music]
Parry Gripp show ID
Parry Gripp – "Pan-Galactic Dolphin"
Watch Reggie Run – "One of These Things" [To the Bakery]
Moby – "Verb! That's What's Happening" [VA: Schoolhouse Rock! Rocks]
Lucky & Alisha show ID
Lucky Diaz and the Family Jam Band – "Hey You!" [Crayon Kids]
Tracy Bonham & Melodeon Music House – "Beats to a Measure" [Young Maestros Vol. 1]
Elliott Park – "Me Me Me" [The Mouth]
Walter Martin – "In My Socks" [Green Beans & Tangerines]
Kelli Welli – "Growing Like a Stringbean" [Let's Go, Pistachio!]
SteveSongs – "On a Flying Guitar" [On a Flying Guitar]
Renee & Jeremy show ID
Renee & Jeremy – "Roam" [Whole Lotta Love]
Katie Ha Ha Ha & Dean Jones – "I Like You"
Claudia Robin Gunn – "Camping Holiday" [Sing Through the Year]
The Microphone Doctors – "Smile" [Hot Fog]
Flula Borg – "Bugs (Are Disgusting)" [It's For You…]
Rissi Palmer – "Little Black Boy, Little Black Girl" [VA: All One Tribe]
Jenny Lewis – "Barking at the Moon" [OST: Bolt]
Hour #2
Jack Forman show ID
Jack Forman – "PJ Year" [Can't Buy a Thrill Ride]
Andrew & Polly – "Mom's Name" [Go For the Moon]
The SOKS – "Are We There Yet?" [Stuff Our Kids Say]
The Oot n' Oots – "Thank You Universe"
Erica Rabner – "Slack" [We Got This]
RhymeZweLL – "Robots on the Dance Floor"
Joanie Leeds show ID
Joanie Leeds – "Endless Summer"
123 Andrés – "Keep it Up (feat. Sugar Free Allstars)" [Hola, Amigo]
SaulPaul – "Ready Set Go" [Okay to Be Different]
Shovels & Rope – "Tomorrow (feat. War and Treaty)" [Busted Jukebox Vol. 3]
Jazzy Ash – "Be Outside" [Good Foot]
The Pointer Sisters – "Pinball Number Count"
fleaBITE show ID
fleaBITE – "Pineapple (feat. Itty Bitty Beats)"
Michael Hearst – "Turtle" [Songs For Unconventional Vehicles]
Captain & Cat – "Let it Out" [The Adventures of…]
The Hipwaders – "Harry's Song" [St. Roch & Acolytes of Pop]
Sara Watkins – "Blanket For a Sail" [Under the Pepper Tree]
Sin and Swoon – "Little Bingo" [Sing Out!]
Peter Himmelman – "Imagination" [My Trampoline]
---
© SMCB | Status: Active, 55 episodes | Kind: Episodic
|
Episode URL
---
The content, Artwork and advertising within this podcast is not owned or affiliated with Sound Carrot and remain the property of their respective owners.