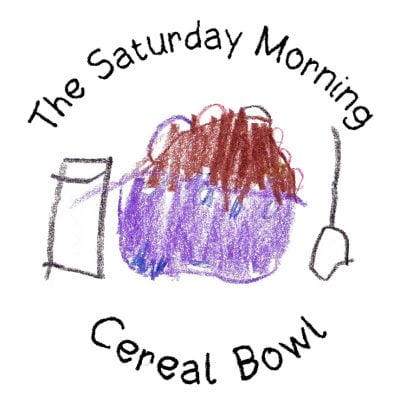 May 22, 2021
Leave a review
What a great show today, kids. A lot of new tunes and some Cereal Bowl classics for you. Enjoy!
---
© SMCB
|
Episode One: March 13, 2021
This is an Episodic show. You can listen to it in any order, but
episode one
is always a great place to start.
Full Episode description
What a great show today, kids. A lot of new tunes and some Cereal Bowl classics for you. Enjoy!
Hour #1
The Boogers – "SMCB Theme Song"
Alex Voltz – "3 Minutes to Summer" [Welcome to Awesometown]
Blue Moon Boy – "Me and Susannah"
The Que Pastas – "Gene the Brave" [Sunglasses]
Little Miss Ann show ID
Little Miss Ann – "Marshmallow Man (feat. Suzi Shelton)" [28 Days]
Professor Jefferson Band – "Photosynthesis" [Hello]
Mr. Leebot – "It Wasn't Me" [Robot Dance]
Michael & the Rockness Monsters show ID
Michael & the Rockness Monsters – "Down on the Corner (feat. Red Yarn)" [Similarities]
Matt Heaton – "Allergies"
Peanut Butter Jams – "Rainbow Baby"
Dog on Fleas – "I'm an Optimist" [I'm an Optimist]
Pierce Freelon – "Vulnerable" [Black to the Future]
Gwendolyn & the Good Time Gang – "Freedom of the Heart" [Gwendolyn]
Charity show ID
Charity and the JAMband – "The Baby Dog" [Creatures & Critters]
Elliott Park – "I've Watched Everything" [The Mouth]
Oscar's Dad – "Friends" [Oscar's Dad]
Andy Z – "1 4 3"
SaulPaul – "Be Myself" [Okay to Be Different]
Koo Koo Kang Roo – "Backyard Swimsuit" [Slow Clap]
Clementown – "The Lonely Surfer" [Polka Bats and Octopus Slacks]
Hour #2
Morgan Taylor show ID
Gustafer Yellowgold – "Crack the Rainbow" [The Minnesota Chronicles: The Gustafer Yellowgold Story Vol. 2]
Esther Crow – "Johnny the Cat" [All Together Now]
Mi Amigo Hamlet – "Olé Olé Olá (feat. Alina Celeste)" [Hoy Es Un Bien Día]
The Deedle Deedle Dees – "How You Build a Nest" [How to Fix America]
Pointed Man Band – "Love!" [Dreams]
Sesame Street – "Sing" [Platinum: All Time Favorites]
Brady Rymer show ID
Brady Rymer – "Happy Birthday, Trees"
Music With Michal – "I Feel Angry"
The Thinking Caps – "The Books I've Read" [Be Yourself]
The Okee Dokee Brothers – "Jackalope" [Saddle Up]
Waco Brothers – "The Fox" [VA: The Bottle Let Me Down]
Rocknoceros – "Playground" [Pink!]
Kristen Andreassen show ID
The Bright Siders – "You Be You (feat. Oh Pep!)" [A Mind of Your Own]
The Dilly Dallies – "It's Wonderful Being Short" [Do You Think I'm Weird?]
Patrick Adams – "Awesome Europe (feat. Sarah Elizabeth)"
Erica Rabner – "Zoom" [We Got This]
Suzanna Jamieson – "Lemonade" [Bounce]
Uncle Jumbo & 123 Andrés – "Unstoppable"
Rhythm Child – "Bowl of Cherries" [Pick a Bowl of Cherries]
---
© SMCB | Status: Active, 53 episodes | Kind: Episodic
|
Episode URL
---
The content, Artwork and advertising within this podcast is not owned or affiliated with Sound Carrot and remain the property of their respective owners.