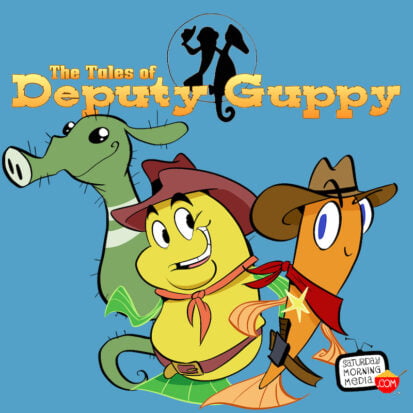 The Adventures of The Thunder Crester #105 "Reporting For Duty! Part 1"
Leave a review
Thunder Crester and Kid Cumulonimbus head down to City Hall to inform the Mayor of their intentions to become Klamity Flatt's newest superheroes! Starring Kevin Berntson Michael Oosterom & Grant Baciocco Music by Kevin MacLeod Consider supporting the show at www.SaturdayMorningTheatre.com ©2013 Saturday Morning Media/Grant Baciocco
---
© Saturday Morning Media
|
4:11
|
Start here: The Adventures of The Thunder Crester – Promo #001 – Adventures of The Thunder Crester! This is a serialised ongoing story, so jumping in at episode 10, for example, could confuse matters. Give episode one a try, and if you like it; listen to things from there.


Full Episode description
Thunder Crester and Kid Cumulonimbus head down to City Hall to inform the Mayor of their intentions to become Klamity Flatt's newest superheroes! Starring Kevin Berntson Michael Oosterom & Grant Baciocco Music by Kevin MacLeod Consider supporting the show at www.SaturdayMorningTheatre.com ©2013 Saturday Morning Media/Grant Baciocco
---
© Saturday Morning Media
| Status: Idle, 91 episodes | Kind: Story
|
Episode URL
---
The content, Artwork and advertising within this podcast is not owned or affiliated with Sound Carrot and remain the property of their respective owners.