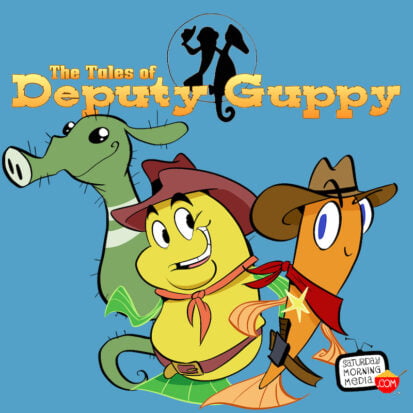 The Haunted Department Store Ch. 5 – The Mysterious Mysteries of Toby Taylor, The Fruit Magician
Leave a review
http://www.FruitMagician.com – Chapter 5 of 5.  Where has Rebecca gone?! Who is the ghost?! All will be revealed in this final episode! SERIES CAST Molly Fite as Rebecca Taylor Patrick Bristow as Gilmore Jayne Entwistle as Mrs. Richardson Michael Oosterom as the Thomas Lockwood and Stage Manager Grant Baciocco as Toby Taylor and Kevin Berntson as The Narrator Music by Dan Ring What did you…
---
© Saturday Morning Media
|
9:00
|
Start here: The Adventures of The Thunder Crester – Promo #001 – Adventures of The Thunder Crester! This is a serialised ongoing story, so jumping in at episode 10, for example, could confuse matters. Give episode one a try, and if you like it; listen to things from there.


Full Episode description
http://www.FruitMagician.com – Chapter 5 of 5.  Where has Rebecca gone?! Who is the ghost?! All will be revealed in this final episode! SERIES CAST Molly Fite as Rebecca Taylor Patrick Bristow as Gilmore Jayne Entwistle as Mrs. Richardson Michael Oosterom as the Thomas Lockwood and Stage Manager Grant Baciocco as Toby Taylor and Kevin Berntson as The Narrator Music by Dan Ring What did you…
---
© Saturday Morning Media
| Status: Idle, 91 episodes | Kind: Story
|
Episode URL
---
The content, Artwork and advertising within this podcast is not owned or affiliated with Sound Carrot and remain the property of their respective owners.