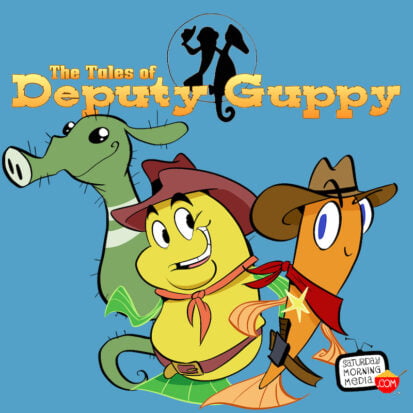 The Tales of Deputy Guppy #101 "First Day on the Job!"
Leave a review
GUEST STARRING: CHUCK MCCANN Return with us to the thrilling days of not too long ago when the west was wild and the rivers in the west were even wilder!  Luckily there was one fish to maintain law and order, one fish to reel in those who dared disturb the peace and tranquility of Driftwood…
---
© Saturday Morning Media
|
8:59
|
Start here: The Adventures of The Thunder Crester – Promo #001 – Adventures of The Thunder Crester! This is a serialised ongoing story, so jumping in at episode 10, for example, could confuse matters. Give episode one a try, and if you like it; listen to things from there.


Full Episode description
GUEST STARRING: CHUCK MCCANN Return with us to the thrilling days of not too long ago when the west was wild and the rivers in the west were even wilder!  Luckily there was one fish to maintain law and order, one fish to reel in those who dared disturb the peace and tranquility of Driftwood…
---
© Saturday Morning Media
| Status: Idle, 91 episodes | Kind: Story
|
Episode URL
---
The content, Artwork and advertising within this podcast is not owned or affiliated with Sound Carrot and remain the property of their respective owners.