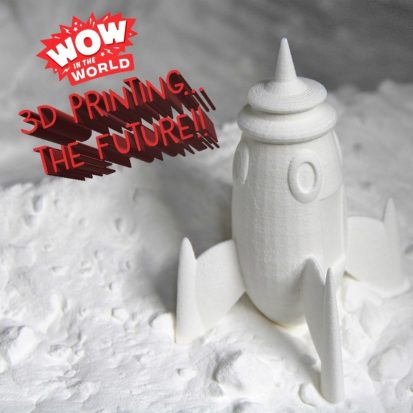 3D Printing the Future! (Encore – 10/1/18)
Leave a review
What in the world can you create with a 3D printer? How in the world does it work? Where in the world is it being used OUT of this world? And WHY in the world is Mindy pouring pancake batter into a laser printer?! Join Guy Raz & Mindy Thomas as they share the Who, What, When, Where, Why, How, and Wow in the World of 3D printing…the future! (Originally aired December 18th 2018)
---
© Tinkercast
|
00:22:28
|
Episode: 87
|
Episode One: Welcome to Wow in the World
This is an Episodic show. You can listen to it in any order, but
episode one
is always a great place to start.
Full Episode description
What in the world can you create with a 3D printer? How in the world does it work? Where in the world is it being used OUT of this world? And WHY in the world is Mindy pouring pancake batter into a laser printer?! Join Guy Raz & Mindy Thomas as they share the Who, What, When, Where, Why, How, and Wow in the World of 3D printing…the future! (Originally aired December 18th 2018)
See Privacy Policy at https://art19.com/privacy and California Privacy Notice at https://art19.com/privacy#do-not-sell-my-info.
---
© Tinkercast
| Status: Active, 559 episodes | Kind: Episodic
|
Episode URL
---
The content, Artwork and advertising within this podcast is not owned or affiliated with Sound Carrot and remain the property of their respective owners.