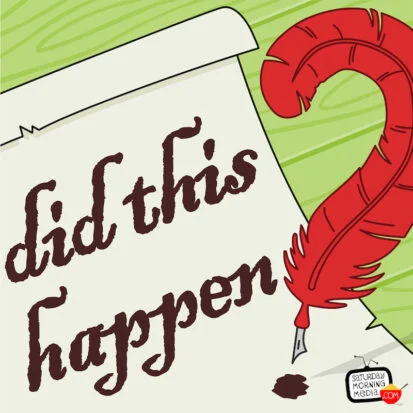 Did This Happen? EPISODE #142 "Lewis & Clark!"
Leave a review
In 1803, Lewis & Clark set out to trek across the Pacific Northwest to find passage to the Pacific Ocean. We are there moments after they started their journey in today's episode of Did This Happen?! Martha Jefferson – Jayne Entwistle Thomas Jefferson – Kevin Berntson Find out more about the Lewis & Clark Expedition! ©2014 Grant Baciocco/Saturday Morning…
---
© Saturday Morning Media
|
1:00
|
Episode One: PROMO #001 "Endorsed By The President!"
This is an Episodic show. You can listen to it in any order, but
episode one
is always a great place to start.
Full Episode description
In 1803, Lewis & Clark set out to trek across the Pacific Northwest to find passage to the Pacific Ocean. We are there moments after they started their journey in today's episode of Did This Happen?! Martha Jefferson – Jayne Entwistle Thomas Jefferson – Kevin Berntson Find out more about the Lewis & Clark Expedition! ©2014 Grant Baciocco/Saturday Morning…
---
© Saturday Morning Media
| Status: inactive, 110 episodes | Kind: Episodic
|
Episode URL
---
The content, Artwork and advertising within this podcast is not owned or affiliated with Sound Carrot and remain the property of their respective owners.