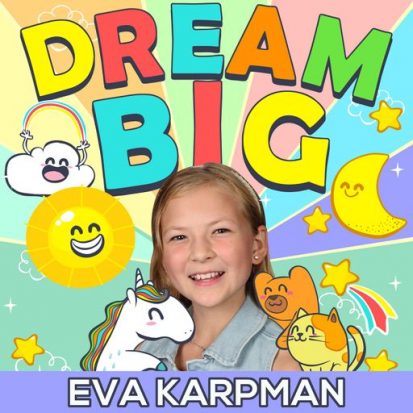 DB 197: Here's Where I've Found The Most Joy During This Crisis
Leave a review
We have definitely noticed that Eva's happiest moments during this crisis have been out in nature.  Whether that's been on bike rides or walks in the neighborhood (practicing social distancing of course), or sitting on the low climbing tree in our yard, or escaping with the family to an off-the-beaten-path hiking trail — these times in nature have been pure magic for our family.  In this episode, Eva shares the scientifically proven health benefits of nature, and how being outside has been so therapeutic during these challenging times.  We highly encourage you to get your kids outside — of course keeping in mind the health guidelines and law for your local communities.  Show notes at DreamBigPodcast.com/197
---
© Dream Big Podcast
|
05:05
|
Episode: 197
|
Episode One: DB 001: Introduction | What To Expect | Meet your hosts Eva and Olga Karpman
This is an Episodic show. You can listen to it in any order, but
episode one
is always a great place to start.
Full Episode description
We have definitely noticed that Eva's happiest moments during this crisis have been out in nature.  Whether that's been on bike rides or walks in the neighborhood (practicing social distancing of course), or sitting on the low climbing tree in our yard, or escaping with the family to an off-the-beaten-path hiking trail — these times in nature have been pure magic for our family.  In this episode, Eva shares the scientifically proven health benefits of nature, and how being outside has been so therapeutic during these challenging times.  We highly encourage you to get your kids outside — of course keeping in mind the health guidelines and law for your local communities.  Show notes at DreamBigPodcast.com/197
---
© Dream Big Podcast
| Status: Active, 337 episodes | Kind: Episodic
|
Episode URL
---
The content, Artwork and advertising within this podcast is not owned or affiliated with Sound Carrot and remain the property of their respective owners.