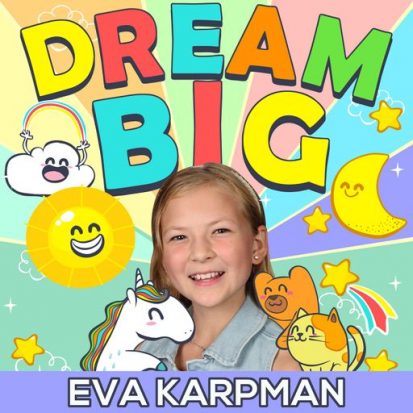 DB 281: Happy Doesn't Happen To You
Leave a review
We talk a lot about Big Dreams in our family.  But we talk even more about happiness.  Why?  Because we want our kids to know that achievement alone will not guarantee you happiness.  Look at all the ultra rich people in this world who are very unhappy.   With the holiday season here, there are many who believe that the holiday season will bring you happiness.  You'll hear the greeting Merry Christmas or Happy Holidays, but we all know that there are plenty who will not be happy and merry this holiday season.  In this episode, Eva shares why Christmas, Hanukkah, Kwaza, or whatever holiday you celebrate, will not make you happy.  Instead, as Eva explains, it is YOU who makes you happy.  This is a powerful and timely reminder that kids (and adults) need to hear, and Eva shares some practical tips on how to be happy this holiday season.  For our show notes, visit DreamBigPodcast.com/281
---
© Dream Big Podcast
|
05:49
|
Episode: 281
|
Episode One: DB 001: Introduction | What To Expect | Meet your hosts Eva and Olga Karpman
This is an Episodic show. You can listen to it in any order, but
episode one
is always a great place to start.
Full Episode description
We talk a lot about Big Dreams in our family.  But we talk even more about happiness.  Why?  Because we want our kids to know that achievement alone will not guarantee you happiness.  Look at all the ultra rich people in this world who are very unhappy.   With the holiday season here, there are many who believe that the holiday season will bring you happiness.  You'll hear the greeting Merry Christmas or Happy Holidays, but we all know that there are plenty who will not be happy and merry this holiday season.  In this episode, Eva shares why Christmas, Hanukkah, Kwaza, or whatever holiday you celebrate, will not make you happy.  Instead, as Eva explains, it is YOU who makes you happy.  This is a powerful and timely reminder that kids (and adults) need to hear, and Eva shares some practical tips on how to be happy this holiday season.  For our show notes, visit DreamBigPodcast.com/281
---
© Dream Big Podcast
| Status: Active, 357 episodes | Kind: Episodic
|
Episode URL
---
The content, Artwork and advertising within this podcast is not owned or affiliated with Sound Carrot and remain the property of their respective owners.