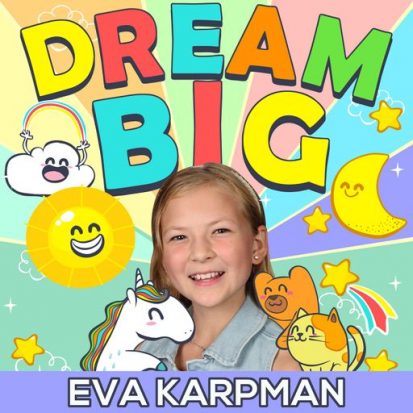 DB 346: Are We There Yet? Navigating the Path to Success
Leave a review
Big dreamers, have you ever heard the phrase "Are we there yet?" on your family road trips?
---
© Dream Big Podcast
|
14:33
|
Episode: 346
|
Episode One: DB 001: Introduction | What To Expect | Meet your hosts Eva and Olga Karpman
This is an Episodic show. You can listen to it in any order, but
episode one
is always a great place to start.
Full Episode description
Big dreamers, have you ever heard the phrase "Are we there yet?" on your family road trips?
Now, we know that feeling. You're in the car, and you're excited to get to your destination – maybe it's a fun theme park or a beautiful beach. But sometimes, the journey to get there can feel like it's taking FOREVER, right?
Well, in this week's episode of the Dream Big Podcast, https://dreambigpodcast.com/346
Sophia and Olga Karpman took that analogy to a whole new level and uncovered how your ordinary road trip can teach you one of the most important lessons to get to your goals with more joy, laughter, and fun.
Today's conversation was all about enjoying the journey towards achieving our dreams and goals. And you know what? Even setbacks and challenges along the way can't stop us from pursuing our dreams. Unless, of course, the setback is running out of ice cream in the freezer. That's a real tragedy. 
But jokes aside, Sophia shared her personal story about how she's dealing with unexpected detours and roadblocks on her path to success. She's not getting frustrated; she's appreciating the progress she makes along the way. And boy, do we need more people like her in the world.
And here's the best part: Sophia has announced a 30-day challenge on 
Tik-Tok: https://www.tiktok.com/@dreambigpodcast
YouTube: https://www.youtube.com/@dreambig.podcast 
She'll be posting content every day, including her favorite jokes and poems. If you want to be a part of the action, follow our new channels and leave a comment. 
You'll be entered into a drawing for a chance to win Amazon gift cards, a spot in the Dream Big Academy, and other cool gifts. Just don't blame us if you end up laughing so hard that you spill your coffee all over your keyboard. Cheers to chasing dreams with a smile!
Love & Dream Big
Olga and Sophia Karpman
---
© Dream Big Podcast
| Status: Active, 347 episodes | Kind: Episodic
|
Episode URL
---
The content, Artwork and advertising within this podcast is not owned or affiliated with Sound Carrot and remain the property of their respective owners.