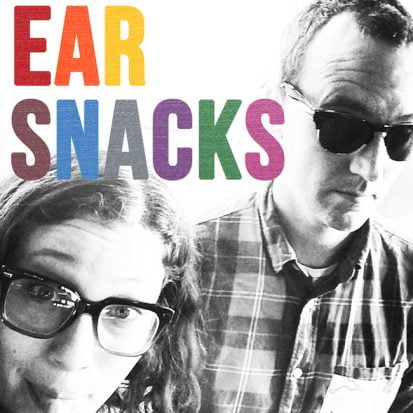 Bubbles! (It's ephemeral, kid.)
Leave a review
Pop! Welcome to a very floaty episode of Ear Snacks in which Andrew & Polly (literally) get into bubbles. Come ponder the nature of glistening spheres, learn the science of surface tension and explore the wonders of Bubble Planet at Kidspace Children's Museum, and wax poetic about the joy of sharing bubbles with our effortlessly effervescent pal, Mista Cookie Jar — who helps us make a brand new song, "Like a Bubble!"
---
© Andrew & Polly
|
00:28:10
|
Episode One: Episode 1: Fruit!
This is an Episodic show. You can listen to it in any order, but
episode one
is always a great place to start.
Full Episode description
Pop! Welcome to a very floaty episode of Ear Snacks in which Andrew & Polly (literally) get into bubbles. Come ponder the nature of glistening spheres, learn the science of surface tension and explore the wonders of Bubble Planet at Kidspace Children's Museum, and wax poetic about the joy of sharing bubbles with our effortlessly effervescent pal, Mista Cookie Jar — who helps us make a brand new song, "Like a Bubble!"
Thanks to Kaya, Kali, Kieran, Vada & Shai (who made some bubble art for this episode) for sharing what they know about bubbles! To learn more or to be on the show, visit earsnacks.org and special thanks to our amazing new Patreon supporters Winona, Margot, Gussy, & Theo family! To support the work we do, join us at patreon.com/earsnacks
Thanks to editor extraordinaire Allyson Holley for helping us make this episode, as well as musicians Bruno Serroni (cello), Davi Mello (cavaquino), Jon-Paul Frappier (trumpet), Chris Bonner (bass) and Chris Barber (drums) for bringing our original music to life.
And as always, thank YOU for listening — it means a lot.
Need more snacks? Connect with us on Instagram, Facebook, Twitter or TikTok!
---
© Andrew & Polly
| Status: Active, 172 episodes | Kind: Episodic
|
---
The content, Artwork and advertising within this podcast is not owned or affiliated with Sound Carrot and remain the property of their respective owners.