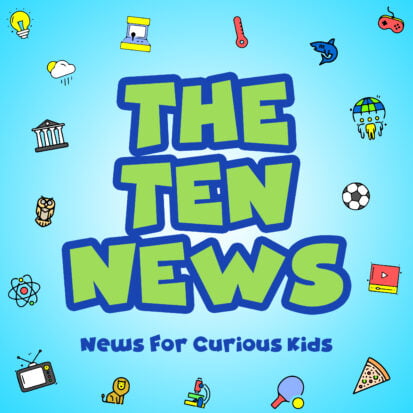 Peace Out Presents: The Ten News
Leave a review
We're taking a little break, but don't worry, I'm sharing an episode from one of my podcast friends! But first…
---
© Chanel Tsang
|
18:00
|
Episode One: Don't React, Respond!
This is an Episodic show. You can listen to it in any order, but
episode one
is always a great place to start.
Full Episode description
We're taking a little break, but don't worry, I'm sharing an episode from one of my podcast friends! But first…
RED PANDA PLUSH TOY PRIZE DRAW DEADLINE EXTENDED!
Yes, you can still enter our lucky draw for a red panda plush toy from our collaborator the Red Panda Network until August 10th! Go to our entry form here for all the details.  Don't delay because you'll need to complete the Red Panda Ranger Challenge and there are 5 to do. 
And now, to today's guest episode…
Presenting The Ten News: Movies & More: 'The Little Mermaid', 'The Super Mario Bros', & 'Hailey's On It!'
‍♀️ What we're watching at The Ten News: Disney's, 'The Little Mermaid' and Ten'er Mia gives her review
Ten'er Vincent shares his pros and cons of the Super Mario Bros movie
️ Actor, Gary Anthony Williams, of Disney's, 'Hailey's On It!' shares a sneak preview of the new show
Trivia with Tessa: Do you know how many tentacles Ursula the sea witch has?
About The Ten News
️ The Ten News podcast explores topics that kids care about most including events, sports, science, gaming, pop culture, entertainment, and more! It's a great way for you and your family to stay connected with what's going on in the world. The Ten News also features some pretty awesome guests; LEGO Masters Judge Amy Corbett, America's top doctor Dr. Anthony Fauci, Sarah Natochenny, the voice of Ash Ketchum for Pokemon fans, and many more. Our episodes are all about staying kind, cool, and curious. We hope you enjoy listening to The Ten News!
Say hi at hello@thetennews.com
Instagram – https://www.instagram.com/thetennews/
---
© Chanel Tsang
| Status: Active, 98 episodes | Kind: Episodic
|
Episode URL
---
The content, Artwork and advertising within this podcast is not owned or affiliated with Sound Carrot and remain the property of their respective owners.