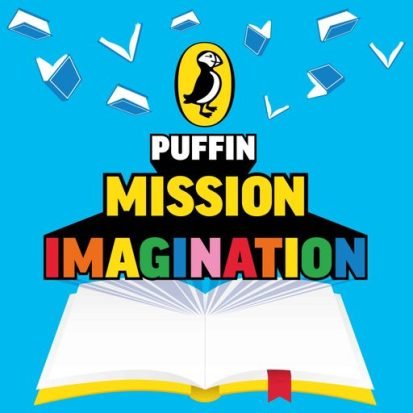 Puffin Podcast: Mission Imagination Trailer
Leave a review
Get ready for Mission Imagination – the new series of the Puffin Podcast. Each episode will whoosh you a way to a different magical world created by a fantastic Puffin author. Hosted by the hilarious Babatunde Aleshe, alongside two young Puffineers, there'll be a new adventure for each week of the summer holidays. From magical forests to underwater worlds, you'll be taken to lands where sweets really do grow on trees, where puffins are rulers of the land, and where you can swim in a sea of chocolate. But, be warned, there are rules for stepping foot in these dreamlands – and when rules are broken, danger follows . . . What Danger? Well, you'll have to tune in to find out. New episode drops every Wednesday. Have your pen, paper and notebook ready to scribble any story ideas of your own along the way. Listeners can send in there Would You Rather questions for authors and ideas bout their magical world to puffinpodcast@penguinrandomhouse.co.uk
---
© Penguin Books
|
1:34
|
Season: 1
|
Episode One: Puffin Podcast: Mission Imagination Trailer
This is an Episodic show. You can listen to it in any order, but
episode one
is always a great place to start.
Full Episode description
Get ready for Mission Imagination – the new series of the Puffin Podcast. Each episode will whoosh you a way to a different magical world created by a fantastic Puffin author. Hosted by the hilarious Babatunde Aleshe, alongside two young Puffineers, there'll be a new adventure for each week of the summer holidays. From magical forests to underwater worlds, you'll be taken to lands where sweets really do grow on trees, where puffins are rulers of the land, and where you can swim in a sea of chocolate. But, be warned, there are rules for stepping foot in these dreamlands – and when rules are broken, danger follows . . . What Danger? Well, you'll have to tune in to find out. New episode drops every Wednesday. Have your pen, paper and notebook ready to scribble any story ideas of your own along the way. Listeners can send in there Would You Rather questions for authors and ideas bout their magical world to puffinpodcast@penguinrandomhouse.co.uk
---
Hosted on Acast. See acast.com/privacy for more information.
---
© Penguin Books
| Status: Active, 16 episodes | Kind: Episodic
|
Episode URL
---
The content, Artwork and advertising within this podcast is not owned or affiliated with Sound Carrot and remain the property of their respective owners.