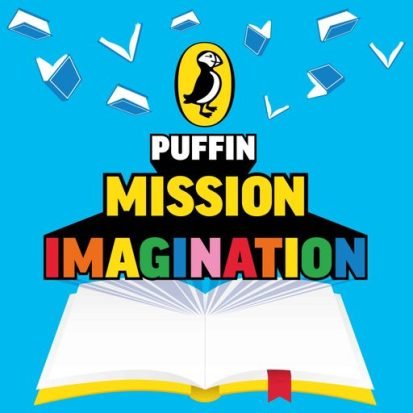 S1, Ep 2 Mission Imagination: Jen Carney in Biscuitville
Leave a review
Jen Carney, author and illustrator of The Accidental Diary of B.U.G, takes Babatúndé Aléshé and the Puffineers on a journey to Biscuitville – a world made entirely of biscuits! Imagine buildings made entirely of biscuits, trees growing chocolate chip cookies and the wheels on all vehicles made of… you've guessed it… Wagon Wheels! But beware, all is not as it seems. This tasty world takes a turn for the worst when one crucial rule is broken. Question is – will they get out in time and home to the Puffin Library of Made Up Things? Grab your favourite biscuit, and take a listen to find out…
---
© Penguin Books
|
16:37
|
Season: 1
|
Episode: 2
|
Episode One: Puffin Podcast: Mission Imagination Trailer
This is an Episodic show. You can listen to it in any order, but
episode one
is always a great place to start.
Full Episode description
Jen Carney, author and illustrator of The Accidental Diary of B.U.G, takes Babatúndé Aléshé and the Puffineers on a journey to Biscuitville – a world made entirely of biscuits! Imagine buildings made entirely of biscuits, trees growing chocolate chip cookies and the wheels on all vehicles made of… you've guessed it… Wagon Wheels! But beware, all is not as it seems. This tasty world takes a turn for the worst when one crucial rule is broken. Question is – will they get out in time and home to the Puffin Library of Made Up Things? Grab your favourite biscuit, and take a listen to find out…
Follow, rate and review so Puffineers everywhere can discover their next adventure
Be on the show! Ask a grown-up to send your Magical World' ideas as an email or voice note to PuffinPodcast@Penguinrandomhouse.co.uk
*****
Get your free Mission Imagination Activity kit from puffin.co.uk/podcast and grown-ups share your creations with @PuffinBooks using #PuffinPodcast
*****
Download the audiobook of The Accidental Diary of B.U.G by Jen Carney and read by Ashna Rabheru from iTunes and Audible.
*****
Puffin Podcast: Mission Imagination is created by Puffin books and produced by Mags Creative
---
Hosted on Acast. See acast.com/privacy for more information.
---
© Penguin Books
| Status: Active, 16 episodes | Kind: Episodic
|
Episode URL
---
The content, Artwork and advertising within this podcast is not owned or affiliated with Sound Carrot and remain the property of their respective owners.