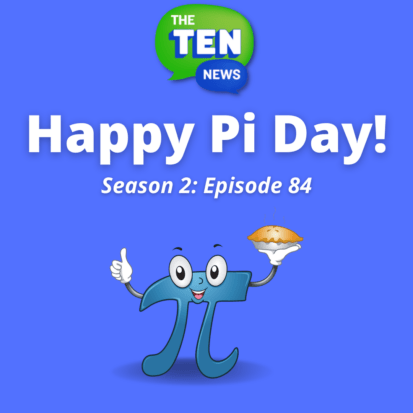 Re-air Alert! Happy Pi Day
Leave a review
Re-air Alert!! Ten News Gets Extra: Did you know that 3.14 percent of sailors are pi-rates? Pi Day is March 14th (3/14 ) and here to tell you all about it is Ten News Correspondent Sarah Namias. ✔️ Fun Fact Check: NASA Scientists use pi to figure out if there's life outside of earth? And, test your ancient construction knowledge on today's Trivia on the Ten. ✅
---
© Small But Mighty Media
|
00:11:59
|
Episode One: Introducing The Ten News ⏱
This is an Episodic show. You can listen to it in any order, but
episode one
is always a great place to start.
Full Episode description
Re-air Alert!! Ten News Gets Extra: Did you know that 3.14 percent of sailors are pi-rates? Pi Day is March 14th (3/14 ) and here to tell you all about it is Ten News Correspondent Sarah Namias. ✔️ Fun Fact Check: NASA Scientists use pi to figure out if there's life outside of earth? And, test your ancient construction knowledge on today's Trivia on the Ten. ✅
---
© Small But Mighty Media
| Status: Active, 80 episodes | Kind: Episodic
|
---
The content, Artwork and advertising within this podcast is not owned or affiliated with Sound Carrot and remain the property of their respective owners.