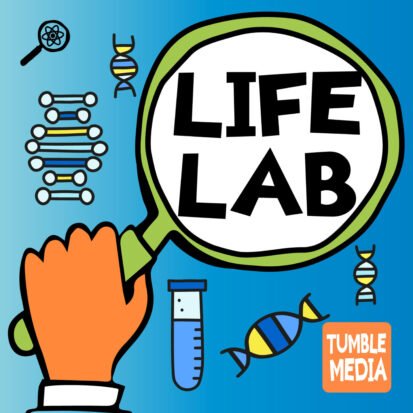 Moving to Mars? – Life Lab, Pt 2
Leave a review
Should we make the move to Mars? And how would we live there? Join us as we pack our bags for Mars with the help of synthetic biology. We'll find out how astronauts could grow their own food, medicine, and even building materials on the Red Planet. But when Lindsay and Marshall start to disagree about moving to another planet, some tricky questions threaten the mission…
---
© Tumble Media
| 00:20:35
|
Season: 8 | Episode: 2 |
Download Episode
Episode One: The Mystery of the Barton Springs Salamander with Dr. Hayley Gillespie
This is an Episodic show. You can listen to it in any order, but
episode one
is always a great place to start.
Full Episode description
Should we make the move to Mars? And how would we live there? Join us as we pack our bags for Mars with the help of synthetic biology. We'll find out how astronauts could grow their own food, medicine, and even building materials on the Red Planet. But when Lindsay and Marshall start to disagree about moving to another planet, some tricky questions threaten the mission…
Welcome to Life Lab! This is the first part of our five part series about how tiny life can change our world. In Life Lab, we explore the incredible power of synthetic biology to solve some of our biggest challenges – and asking how it could change our future.
This episode features Adam Arkin and Kris Prather.
Life Lab is supported by the Engineering Biology Research Consortium, a non-profit committed to educating the next-generation and building a community dedicated to solving big challenges with engineering biology. Funded by the National Science Foundation.
We have two bonus interviews for you this week, featuring Christina and Kris! They're available to Tumble Patrons who pledge just a dollar or more a month, on patreon.com/tumblepodcast.
You can find a transcript and other educational materials about this episode on the blog on our website, sciencepodcastforkids.com.
Episode Advertiser:
National Children's Museum STEAM Daydream Podcast
—
This episode is sponsored by
· Anchor: The easiest way to make a podcast. https://anchor.fm/app
---
Episode URL
© Tumble Media | Status: Active, 189 episodes | Kind: Episodic
---
The content, Artwork and advertising within this podcast is not owned or affiliated with Sound Carrot.