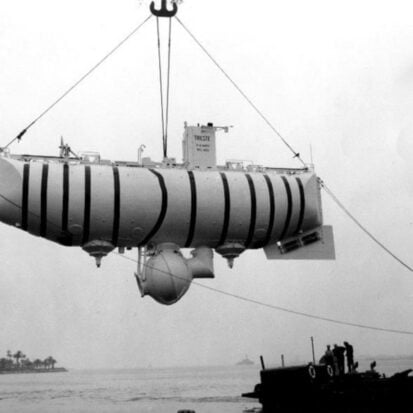 The Journey to the Deepest Part of the Ocean with Gaelin Rosenwaks [ENCORE]
Leave a review
Where is the deepest part of the ocean, and have we been there in person? Ocean explorer Gaelin Rosenwaks answers with an amazing story of the first explorers to dive to a mysterious place called Challenger Deep. It's filled with awesome adventure, incredible risk, and awe-inspiring reward. This is a journey that changed the way we understand the ocean. We're working on a bunch of exciting new stuff for you this week, so we are re-playing one of our favorite episodes.  Love Tumble? Subscribe on iTunes! itunes.apple.com/us/podcast/the-t…cast/id984771479 and write us a review. Support us on Patreon! www.patreon.com/tumblepodcast And visit us on our website,www.sciencepodcastforkids.com
---
© Tumble Media
|
00:16:11
|
Episode One: The Mystery of the Barton Springs Salamander with Dr. Hayley Gillespie
This is an Episodic show. You can listen to it in any order, but
episode one
is always a great place to start.
Full Episode description
Where is the deepest part of the ocean, and have we been there in person? Ocean explorer Gaelin Rosenwaks answers with an amazing story of the first explorers to dive to a mysterious place called Challenger Deep. It's filled with awesome adventure, incredible risk, and awe-inspiring reward. This is a journey that changed the way we understand the ocean. We're working on a bunch of exciting new stuff for you this week, so we are re-playing one of our favorite episodes.  Love Tumble? Subscribe on iTunes! itunes.apple.com/us/podcast/the-t…cast/id984771479 and write us a review. Support us on Patreon! www.patreon.com/tumblepodcast And visit us on our website,www.sciencepodcastforkids.com
—
This episode is sponsored by
· Anchor: The easiest way to make a podcast. https://anchor.fm/app
---
© Tumble Media
| Status: Active, 202 episodes | Kind: Episodic
|
Episode URL
---
The content, Artwork and advertising within this podcast is not owned or affiliated with Sound Carrot and remain the property of their respective owners.