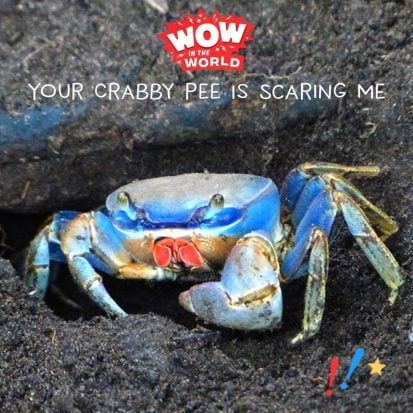 Your Crabby Pee Is Scaring Me! (Encore – 10/15/18)
Leave a review
What's that scent wafting through the murky waters off the coast of Georgia? Well if you're a mud crab, you'll know that it's the smell of fear. But where does it come from? And how do we know? Join Guy Raz & Mindy Thomas for Who, What, When, Where, Why, How, and Wow in the World of secret signals of the animal world. (And stick around as they potty-train a Blue crab. Trust us on this one.) (Originally aired April 13th 2018)
---
© Tinkercast
|
00:30:25
|
Episode: 89
|
Episode One: Welcome to Wow in the World
This is an Episodic show. You can listen to it in any order, but
episode one
is always a great place to start.
Full Episode description
What's that scent wafting through the murky waters off the coast of Georgia? Well if you're a mud crab, you'll know that it's the smell of fear. But where does it come from? And how do we know? Join Guy Raz & Mindy Thomas for Who, What, When, Where, Why, How, and Wow in the World of secret signals of the animal world. (And stick around as they potty-train a Blue crab. Trust us on this one.) (Originally aired April 13th 2018)
See Privacy Policy at https://art19.com/privacy and California Privacy Notice at https://art19.com/privacy#do-not-sell-my-info.
---
© Tinkercast
| Status: Active, 602 episodes | Kind: Episodic
|
Episode URL
---
The content, Artwork and advertising within this podcast is not owned or affiliated with Sound Carrot and remain the property of their respective owners.