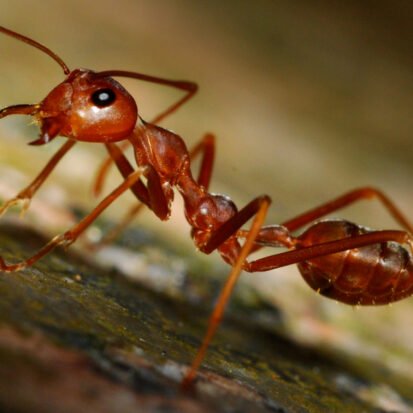 The Tale of How Ants Conquered the Earth with Corrie Moreau
Leave a review
Why are there so many different species of ants? That's what entomologist Corrie Moreau wants to know. There are more species of ants than there are species of mammals and birds – combined! Her quest starts in the jungle and ends in a lab, where she unravels the story of ants conquering the earth. Plus, listeners tell us what THEY know about ants! Take Corrie's advice: Get outside and play with bugs! Then tell us about it. What did you see and observe? Take photos and make drawings. Email them to us at tumblepodcast@gmail.com Subscribe on iTunes! itunes.apple.com/us/podcast/the-tumble-podcast/id984771479 Support us on Patreon! https://www.patreon.com/tumblepodcast And visit us on our website, www.sciencepodcastforkids.com Photo from Wikipedia
---
© Tumble Media
| 00:14:00
|
Download Episode
Episode One: The Mystery of the Barton Springs Salamander with Dr. Hayley Gillespie
This is an Episodic show. You can listen to it in any order, but
episode one
is always a great place to start.
Full Episode description
Why are there so many different species of ants? That's what entomologist Corrie Moreau wants to know. There are more species of ants than there are species of mammals and birds – combined! Her quest starts in the jungle and ends in a lab, where she unravels the story of ants conquering the earth. Plus, listeners tell us what THEY know about ants! Take Corrie's advice: Get outside and play with bugs! Then tell us about it. What did you see and observe? Take photos and make drawings. Email them to us at tumblepodcast@gmail.com Subscribe on iTunes! itunes.apple.com/us/podcast/the-tumble-podcast/id984771479 Support us on Patreon! https://www.patreon.com/tumblepodcast And visit us on our website, www.sciencepodcastforkids.com Photo from Wikipedia
—
This episode is sponsored by
· Anchor: The easiest way to make a podcast. https://anchor.fm/app
---
Episode URL
© Tumble Media | Status: Active, 189 episodes | Kind: Episodic
---
The content, Artwork and advertising within this podcast is not owned or affiliated with Sound Carrot.