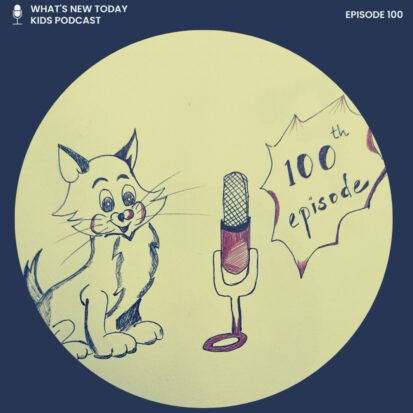 Epi 100: Behind the scenes – making of the 'What's new today' podcast
Leave a review
Our excitement at the prospect of having reached the 100th episode milestone must be palpable – in our voices, the podcast cover and even in our sound tracks 🙂
---
© News stories for kids
|
00:20:14
|
Episode One: Introducing 'What's new today'
This is an Episodic show. You can listen to it in any order, but
episode one
is always a great place to start.
Full Episode description
Our excitement at the prospect of having reached the 100th episode milestone must be palpable – in our voices, the podcast cover and even in our sound tracks 🙂
In this episode, 8-year old Devansh from Kolkata and 12-year old Eesha from Chennai (who have both appeared in previous episodes on science & wildlife stories) talk about their experiences. We answer questions such as –
'Is there a script for each episode?'
'How do the children prepare for each episode?'
'How does the podcast channel maintain such a diverse set of topics'
You can listen to the banter between the host Sangeetha and Devansh & Eesha, as they try to answer questions from our listeners.
If you are a child (aged 6-17) and would like to feature on this show, follow us on Instagram to find out about how you can be a part of this show. Write to us with your thoughts or comments at hello@wsnt.in.
---
© News stories for kids
| Status: Active, 123 episodes | Kind: Story
|
Episode URL
---
The content, Artwork and advertising within this podcast is not owned or affiliated with Sound Carrot and remain the property of their respective owners.